Description
Pictograms for structure and overview in everyday life
A pictogram is a single image that symbolizes things, concepts or actions. My day in pictograms is a visual aid for families who want more structure and overview in their everyday life, fewer conflicts and more independent children.
My day in pictograms is drawn with more colours, shades and details than pictograms usually are, while the illustrations aim to be as simple as possible. This more vivid look has been chosen to make the pictograms more appealing and fun for children, therefore increasing the child's motivation to use them.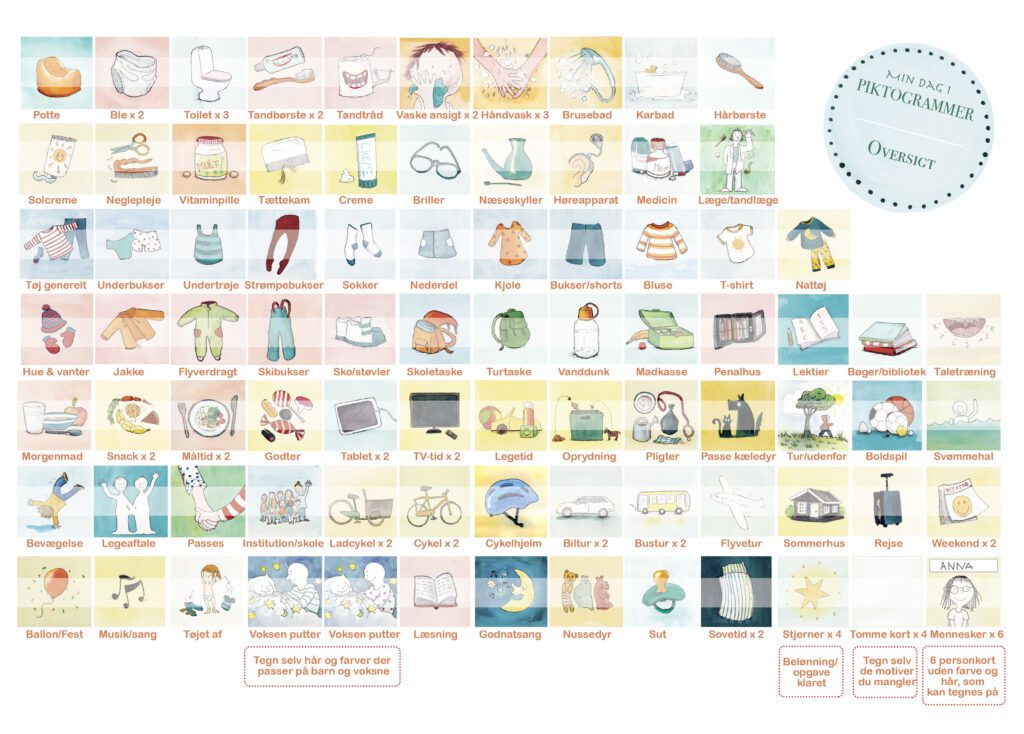 Why use pictograms?
Children are different and have different needs. Some children have no problems with unpredictability, while others need to know exactly what's going on in order to feel comfortable.
This doesn't just apply to children, but to adults too. However, the world of children is far more unpredictable than that of adults. There are constantly things going on that the child does not understand and does not have to understand, and it's rare that children themselves get to decide when, for example, they should eat, bathe, go to daycare, and go home again. This can result in the child reacting with resistance when going from one situation to another. Especially if the child is engaged in a fun activity, such as playing or watching TV, the transition to something else (and more boring) can be really difficult. And this is where My Day in Pictograms can help, for example by creating an overview and structure, thereby preparing the child for the change in activity, which makes the transition easier.
Pictograms for children with special needs
Pictograms are particularly well-suited to children with special needs, e.g. children with language difficulties, children with hearing impairments or children with neurodevelopmental disorders such as ADHD, autism spectrum disorder or other related challenges.
In relation to the latter group, the use of pictograms is essential, as these children's difficulties relate to disorders in the parts of the brain that plan, structure, form an overview and solve problems (the so-called executive functions). As such, it can be said that all children have "executive difficulties" for the sole reason that they are children. This is because the governing parts of the brain (i.e. the executive functions) are not fully developed until late in adolescence. Many adults and older children can, however, create and maintain a form of internal overview, while others need an external overview, i.e. something concrete and visual to relate to.
Children do not think for minutes and hours, as they don't know how long a minute or an hour is. They use different events of the day to navigate in time, such as meals. Therefore, it is a good idea to have a structure at home so that, for example, meals and bedtimes take place at the same times every day.
My Day in Pictograms can be beneficial for all families, because no matter the child, all children thrive with clear guidelines and an idea of what they need to do, what is expected of them and when.